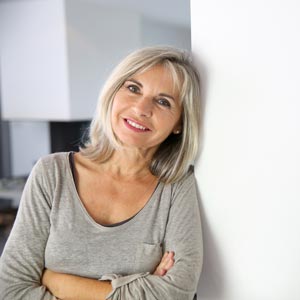 Do you hide your smile because of missing teeth? Schedule a consultation with our dentist to learn about our tooth replacement options. We pride ourselves on helping patients make the best decisions for their smiles.
Whether you're interested in dental implants or bridges, you can count on our years of experience. Continue reading to learn about the best tooth replacement options for your smile and oral health.
Your Tooth Replacement Options
Dental Implants
A dental implant is a prosthetic tooth root (typically made of titanium) used to anchor a crown. The implant exerts pressure on your jawbone so it stays healthy. Otherwise, your body will start to absorb minerals from your jawbone to use elsewhere.
To your body, there's no point in a jawbone if there are no teeth left. Fortunately, a dental implants, you'll be able to avoid jawbone deterioration and eventual facial collapse. Not only does facial collapse affect your appearance, but it also makes it more difficult or painful to wear dentures.
provides the stimulation your jawbone tissue needs to stay healthy. By choosing
Mini Dental Implants
If you don't have sufficient bone density for full-sized dental implants, we may recommend mini implants. work because they have a ball at the end that allows your tooth replacement to snap into place. Your dental crown gives you the function and appearance of a natural tooth and will have a socket underneath to create a strong attachment to the implant.
Mini dental implants can be placed in one appointment and used immediately to support a crown, bridge, or denture. Instead of waiting months for an implant to fuse to your jawbone, you'll be able to enjoy your new smile as soon as possible. Ask your dentist if you're a candidate for mini dental implants.
Implant Supported Dentures
Dentures can be supported by full-sized or mini dental implants. The type of implants we recommend will depend on the bone density in your jaw and how long you're willing to wait to enjoy your new smile.
Many of our patients appreciate how implant supported dentures provide more stability than conventional dentures. Instead of having dentures sit on top of your gums, they are supported by implants deep in your jawbone so you can eat, talk, and smile with confidence.
Dentures
After significant tooth loss, your dentist may recommend complete dentures. Partial dentures can also be used if you're only missing a few teeth. While dentures are a great short-term solution, we highly recommend dental implants so you can avoid jawbone deterioration and eventual facial collapse. We recognize that each patient is different, which is why we'll be able to work with you to find the best solution for your smile.
Dental Bridges
A dental bridge is a false tooth anchored on both sides by crowns on adjacent teeth. If you only have one or two missing teeth, your dentist may recommend a dental bridge. If you're interested in something more permanent, we are able to create dental bridges supported by implants. In general, we tend to steer patients toward replacing teeth with implants (rather than bridges) because it allows them to save as much natural tooth structure as possible.
To schedule your appointment with our Grand Rapids dentist, email NorthPointe Family Dental at northpointefamilydental@gmail.com.