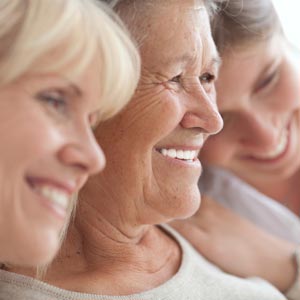 Yes, you can get a front tooth implant. However, it's important that you first schedule an appointment with our dental implant dentist in .
The front teeth that show when you smile and talk are some of the most difficult teeth to replace because they greatly affect the appearance of your smile. Please contact us with any questions you may have regarding your dental implant care.
Our dentist understands that cosmetic dentistry is both a science and an art, which is why he pays attention to the smallest of details while creating your dental implants. Continue reading to learn how we create front tooth implants for our patients so they can smile with confidence after tooth loss.
Getting a Front Tooth Implant
What is the "smile zone"?
The "smile zone" refers to those teeth that show when you smile and talk. It's important that you request a consultation with our dental implant dentist who specializes in creating quality dental implants for his patients. While general dentists may have some knowledge of and cosmetic dentistry, we have extensive experience treating patients just like you who wish to replace front teeth with .
Can you replace a front tooth?
Yes, our dentist is able to replace a front tooth with a dental implant so you can smile with confidence. Our dental implant dentist has the experience and training to create a dental implant that matches the color and shape of the rest of your teeth. We highly recommend you see our dentist that specializes in dental implants so you can get the best esthetic result for your smile.
How long do dental implants last?
Dental implants can last a lifetime with proper care. However, this means that you'll need to take care of your dental implants like you would natural teeth. Make sure that you brush your teeth twice a day and floss once daily. That way, you'll be able to remove plaque from the surface of your teeth. You should also see our dentist at least every 6 months so we can monitor the condition of your dental implants.
What are the different types of dental implants?
We offer a variety of different types of dental implants, including , implant supported dentures, all-on-6 implants, and other tooth replacement options. For example, our dental implant dentist may recommend all-on-6 implants if you need to replace an entire arch of teeth.
How does teeth whitening affect the dental implant process?
If you plan on getting your teeth professionally whitened, you may want to get it done before you get your dental implant crown. That way, your front tooth implant will match the same shade of white as the rest of your smile. During your consultation, our dental implant dentist will be able to help plan your entire smile makeover in our office. Since we offer a range of dental procedures, you won't have to deal with the hassle of seeing multiple specialists during the dental implant process.
Dr. Suk Jun Yun DDS is a dental implant dentist in Grand Rapids, MI with experience in replacing front teeth so they look beautiful and natural. To request an appointment with our dental implant dentist, call the NorthPointe Family Dental & Implant Center at (616) 288-6134.