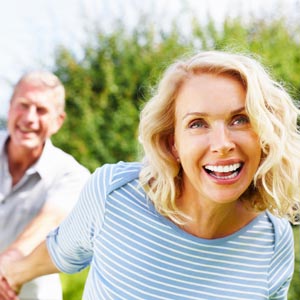 Have you recently lost a tooth? If so, it may be difficult eating your favorite foods or finding the confidence to smile.
The good news is that Dr. Yun has years of experience helping patients overcome tooth loss. Some of the most popular tooth replacement options are dental implants and dentures.
Here's what you need to know.
What Are Dentures?
Dentures are an oral appliance made to look and function like natural teeth. Depending on the extent of tooth loss, our dentist may recommend a full or partial denture.
While a full denture replaces an entire arch of teeth, a partial denture only replaces a few teeth. If you're interested in dentures, we recommend implant-supported dentures. This will give you the ultimate stability while you eat, talk, and smile.
Dentures sit on top of your gums. As such, you'll need to remove them before you go to sleep so your gums have a chance to recover.
When not in use, submerge your dentures in a glass of water or denture cleaner. That way, they won't dry out, crack, and warp.
What Are Dental Implants?
A dental implant is a
that supports an abutment and crown. This gives you the full function and appearance of a natural tooth.
Dental implants are stable because they bond to your jawbone. This is different from dentures that rest on top of your gums and may slip.
You'll need to take care of your dental implants like you would your natural teeth. This means brushing your teeth twice a day and flossing once a day.
Should I Get Dentures or Dental Implants?
Dentures are more affordable than dental implants. But they don't solve the problem of jawbone deterioration.
As soon as your body detects a missing tooth, it'll start to absorb the minerals in your jaw to use elsewhere. Once this happens, the area of the jaw where the tooth root used to be weakens and deteriorates.
Teeth next to the gap will also start to tilt toward the open space. Over time, you may experience facial collapse. This alters the shape of your face and makes it difficult to
.
In general, we recommend dental implants whenever possible. That way, patients can avoid long-term health issues caused by missing teeth.
Related:How Dental Implants Prevent Tooth Loss →
Am I a Candidate for Dental Implants?
You'll need enough bone density in your jaw to support dental implants. But this may be a problem if your jawbone has already started to deteriorate. Under these circumstances, Dr. Yun may recommend mini dental implants.
While full-sized dental implants are between 3.4 and 5.8 mm wide, mini implants are only 1.8 to 3.0 mm.
In general, you may not be a candidate for dental implants if you smoke. This is because smoking inhibits your body's natural ability to heal after surgery.
Each patient is different. That's why you'll need to schedule an appointment with Dr. Yun to learn if dental implants are right for you.
Request an Appointment With Dr. Yun
Dr. Yun is an experienced dental implant dentist in Grand Rapids, MI. As such, he'd be more than happy to help you explore your tooth replacement options.
Ready to request an appointment? Please call the NorthPointe Family Dental & Implant Center at (616) 288-6134. You may also fill out our online contact form and someone from our office will reach out to you soon.
This blog post has been updated.