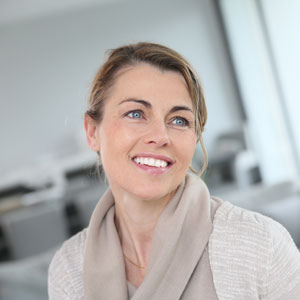 It's not uncommon for your teeth to get duller and yellower over time. This is especially true if you drink coffee, red wine, or other staining beverages.
The good news is that Dr. Yun offers professional teeth whitening. His dental practice offers GLO® in-office whitening and Opalescence® at-home whitening.
There are advantages to both whitening options. But we recommend scheduling a consultation with our cosmetic dentist to determine which is right for you.
In the meantime, here's what you need to know about professional teeth whitening.
You Can Expect Fast Results
Over-the-counter teeth whitening products can take days or even weeks to work. But we can whiten your smile by up to 5 shades in one appointment! That's why in-office whitening is perfect for patients looking for fast results.
Want to improve your image for a job interview? Interested in whitening your teeth before an upcoming wedding? No matter your story, you can trust Dr. Yun for beautiful teeth whitening results.
GLO uses warming heat and light, along with high-concentration whitening gel. These elements all work together to give you the smile you've always wanted.
Once the procedure is over, we'll give you instructions on how you can maintain your white smile from home.
There Are At-Home Options
Depending on the extent of discoloration, we may recommend at-home teeth whitening. At-home whitening is also perfect for patients who want to gradually whiten teeth.
also means you'll be able to brighten your smile when it's most convenient for you.
First, we'll need to take digital impressions of your teeth to create a custom whitening tray. When you return for your second appointment, your custom whitening tray will be ready. Dr. Yun will ensure that it fits comfortably so you can start whitening your teeth from home as soon as possible.
It's Great for Sensitive Teeth
won't irritate your gums or cause tooth sensitivity. This is because the whitening gel doesn't contain alcohol or carbamide peroxide. Both of these ingredients may cause dry mouth and sensitive teeth.
If you wish to stop treatment at any time, let Dr. Yun know. If you have sensitive teeth, we are willing to work at a pace that's comfortable to you. That way, you can feel in control of your treatment.
Keep in mind that different people have different levels of pain tolerance. One person's experience doesn't predict how you'll react to teeth whitening.
Request an Appointment With Us
Dr. Yun is an experienced cosmetic dentist in Grand Rapids, MI. As such, he'd be more than happy to determine if you're a candidate for GLO teeth whitening. He'll also help you weigh your options if you're interested in comparing teeth whitening with another cosmetic procedure.
Ready to request an appointment with us? Please call the NorthPointe Family Dental & Implant Center at (616) 288-6134. You may also fill out our online contact form and someone from our office will reach out to you soon.
This blog post has been updated.