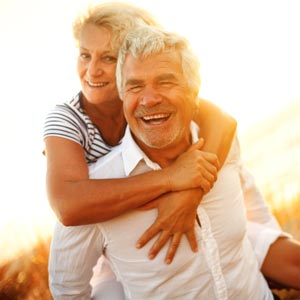 If you have several missing teeth, your dentist may recommend implant-supported dentures. Unlike conventional dentures that rest on top of your gums, implant-supported dentures are anchored to your jawbone so they won't slip. Many of our patients appreciate being able to eat, talk, and smile with confidence.
Continue reading to learn more about implant-supported dentures and whether you're a candidate for the procedure.
You may also call our office to schedule a consultation with our dental implant dentist in Grand Rapids, MI.
Natural-Looking Dentures That Don't Slip
An implant-supported denture is a type of overdenture that replaces several teeth at once. If you've lost most of your teeth, we may recommend implant-supported dentures. Your overdenture will need at least two all-on-6 implants for the best result.
for support. However, our dentist typically recommends
Attachments are placed underneath the denture that connects the implants. When placed in the mouth, the denture fits onto the dental implants, keeping it stable and secure. You'll be able to enjoy more foods with implant-supported dentures than you would with conventional dentures.
Candidates
To be a candidate for implant-supported dentures, you must have sufficient bone density for the procedure. However, your dentist may recommend a to help support your dental implants. You must also have healthy gum tissue and a healthy immune system before we recommend oral surgery.
Procedure
A dental implant is a prosthetic tooth root (typically made of a titanium alloy) used to anchor a crown. If you have sufficient bone density, we'll go ahead and place the implants in your jaw. Otherwise, you'll need a separate procedure for a bone graft.
Over the next few months, the all-on-6 dental implants will fuse to your jaw in a process called osseointegration. During this time, our dental implant dentist will check your progress to make sure you're healing properly.
Once you've completely healed from dental implant surgery, we'll snap the arch of false teeth into place. Like conventional dentures, your implant-supported dentures will have an acrylic base to look like your gums. Many of our patients appreciate that implant-supported dentures look and feel like natural teeth.
Aftercare
Care for your implant-supported dentures like you would natural teeth. This means brushing your teeth twice a day. The denture is removable so you can clean it. Remove your implant-supported dentures and place them in a glass of water before going to sleep. This will keep your dentures from drying out and cracking when they're not in your mouth.
If you have questions about how to care for your implant-supported dentures, feel free to ask during your next appointment or call our office. We're always more than happy to help patients maintain healthy smiles.
Request an Appointment With Us
Our dental implant dentist in Grand Rapids, MI, can help restore your smile after significant tooth loss. To request an appointment, contact the NorthPointe Family Dental & Implant Center at northpointefamilydental@gmail.com. We hope we hear from you soon!
This blog post has been updated.