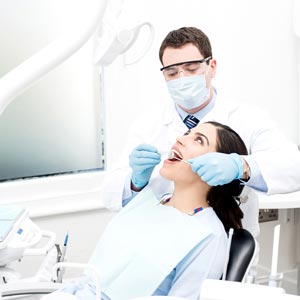 Knowing the difference between an urgent and non-urgent dentist the same day, regardless of whether the accident occurred within office hours.
can save your tooth. For example, a knocked-out tooth will need to be treated by a
Other dental emergencies may not require the same level of urgency, such as a lost porcelain crown, which can be treated within normal business hours. An emergency dentist will be able to tell you what steps you should take to protect your teeth and gums while waiting for a dental treatment.
In this blog post, our Grand Rapids dentist at NorthPointe Family Dental will explain the differences between urgent and non-urgent dental emergencies. If you are currently in dental pain or discomfort, we recommend calling your emergency care dentist to set up an appointment.
Urgent Dental Emergencies
If you are in severe dental pain or have lacerated your gums, cheeks, or tongue, this qualified as an urgent dental emergency. Your dentist's office will be able to rearrange their schedule so you can receive treatment as soon as possible.
You'll need immediate care for the following
:
Severe toothache
Dental abscess
Swollen gums
Loose tooth
Broken tooth or large piece of tooth is missing
Large crack or chip in tooth
If the emergency dentistry. The message on the answering machine should give you instruction for how to reach your dentist in the event of a dental emergency. If there is nothing useful on the machine, go to the nearest emergency room. The sooner you seek medical treatment, the less likely you'll need expensive dental restorations in the future.
happens outside of office hours, your first call should still be to an
Non-Urgent Dental Emergencies
If you are having a non-urgent dental emergency, you'll be able to schedule your dentist appointment during normal office hours. This means that if your filling falls out Saturday afternoon, you'll be able to wait until Monday morning to have a new filling placed.
Non-urgent dental emergencies include:
Lost filling, crown, or bridge
Dull toothache
Food lodged between teeth
Small chip or crack in tooth
Quick thinking is often what saves a tooth from needing an expensive dental restoration or being extracted entirely. If you are experiencing dental pain and discomfort, we encourage you to seek treatment as soon as possible. The sooner you seek , the sooner you can alleviate pain and prevent permanent damage to teeth and gums.
If you have a dental emergency that wasn't listed here, be sure to call your family dental practice. Your dentist can also help you prevent dental emergencies from happening in the first place. For example, sports dental injuries can be avoided with custom mouth guards.
The Grand Rapids emergency dentists at NorthPointe Family Dental have experience restoring smiles after tooth loss, sports dental injuries, and more. If you need emergency dental treatment and are interested in our restorative dentistry services, give our dentist in Grand Rapids, MI a call at (616) 288-6134.