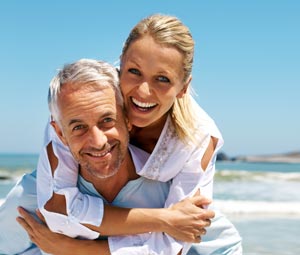 Teeth are essential for chewing, talking, smiling, and feeling confident. Yet, about 42% of Americans don't see a dentist as often as they want, according to a survey from the Delta Dental Plans Association. As a restorative dentist, Dr. Suk Jun Yun offers several procedures to help patients restore their oral health after injury or tooth decay. Continue reading to learn about 5 dental restorations Dr. Yun may recommend to fix your teeth.
Types of Dental Restorations
1.) Fillings
Dr. Yun may recommend a filling if he discovers a small cavity in your tooth. Our dental practice uses fillings made from composite resin to match the color of your teeth. Unlike metal fillings, composite fillings won't expand while you sip a cup of coffee or contract when you eat ice cream. Instead, your fillings will remain stable so plaque and bacteria can't sneak in underneath.
If you need a filling, Dr. Yun will first numb your mouth with local anesthesia. That way, you won't feel any pain or discomfort during the procedure. He'll then drill out the decayed tooth structure and fill the remaining hole with composite resin to restore your tooth.
2.) Dental Bridges
Missing a tooth? Our Grand Rapids dentist may suggest a to "bridge" the gap in your smile. A dental bridge is a false tooth supported by crowns on adjacent teeth or implants. If you have perfectly healthy teeth on either side, we may recommend a less invasive option like a dental implant. That way, we don't have to remove healthy tooth structure to place crowns. Instead, we'll place a titanium post in your jaw to support a false tooth.
3.) Dental Crowns
Dental crowns restore teeth weakened by injury or decay. You may also need a dental crown after certain procedures, like root canals. A dental crown is essentially a cap that's the same shape and color as your tooth. This cap covers your entire tooth, restoring its natural strength and appearance. For the procedure, Dr. Yun will need to remove enough tooth structure to make room for your dental crown. He'll then take impressions of your teeth to make your new crown.
4.) Dentures
Full or partial dentures become an option when many of your teeth are pulled. In order to continue eating and talking properly, it becomes necessary to adopt dentures. Dentures are essentially removable teeth that can help you maintain your quality of life after significant tooth loss.
5.) Dental Implants
Are you missing teeth and would like a replacement option that looks and feels natural? Enter dental implants. are a popular alternative to dentures because they act like real teeth. Dental implants are titanium posts meant to mimic your teeth's natural roots. From your dental implant, Dr. Yun will be able to secure an abutment and crown to form your new artificial tooth.
Request Your Appointment
After Dr. Yun examines your mouth, he'll know which option is best for you based on the condition of your teeth. It is important to call us right away if you suspect that something is wrong. The sooner we can remedy an oral issue, the sooner we can prevent further dental damage from occurring.
Dr. Yun is a reputable dentist in Grand Rapids, MI who has helped countless patients smile with confidence after tooth decay or injury. To schedule an appointment, call the NorthPointe Family Dental & Implant Center at (616) 288-6134. We look forward to hearing from you soon!