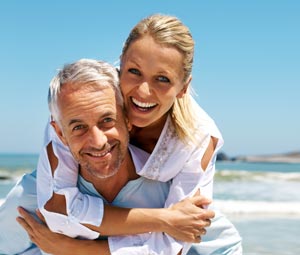 Does your smile need professional intervention? When your teeth become structurally damaged, feel free to schedule an appointment with our Grand Rapids office as soon as possible so that we can restore the appearance of your teeth.
At NorthPointe Family Dental, our Grand Rapids dentists make it their mission to make sure you can smile with confidence. There are many different kinds of restorations that can remedy a smile in trouble:
Fillings
Bridges
Crowns
Dentures
Implants
For your convenience, we will go through each dental restoration option so that you can have a better understanding of what to expect when you walk into our office. At NorthPointe Family Dental, we believe that informed patients make the best patients.
1.) Fillings
When a cavity is discovered in your tooth, you will need a filling. To maintain the natural look of your smile, we usually use
. These fillings are different from other materials (such as amalgam, gold, or silver) because they match the color of your teeth.
2.) Bridges
Like the name suggests, dental bridges help bridge the gaps in your smile. A false tooth is secured between two healthy teeth, which are capped with crowns. Once the "bridge" has been made, the false tooth is cemented into optimal position.
3.) Crowns
Dental implants or natural teeth can be capped with crowns. If your crown has become cracked, chipped, or otherwise compromised, you will need to schedule a dental restoration with us. We can remove the damaged crown and replace it with a new one that will fit snugly over your dental implant or natural tooth. Replacing your crown will help improve the appearance of your smile in no time.
4.) Dentures
Dentures or partial dentures become an option when many of your teeth are pulled. In order to continue eating and talking properly, it becomes necessary to adopt dentures. Dentures are essentially removable teeth that can help you maintain your quality of life after significant tooth loss.
5.) Implants
Are you missing teeth and would like a replacement option that looks and feels natural? Enter dental implants. Dental implants are a popular alternative to dentures because they act like real teeth. Dental implants are titanium posts meant to mimic your teeth's natural roots. From your dental implant, your dentist will be able to secure an abutment and crown to form your new artificial tooth.
After we examine your mouth, we will know which option is best for you based on the condition of the teeth in question. It is important to call us right away if you suspect that something is wrong. The sooner we can remedy an oral issue, the less opportunity for further dental damage to occur.
At NorthPointe Family Dental, we make sure that all of our patients are given quality care in a timely manner. If your smile requires on of our dental restoration services, please do not hesitate to call our Grand Rapids MI dentists at (616) 288-6134. At NorthPointe Family Dental, we have discovered that a beautiful healthy mouth is always something to smile about.