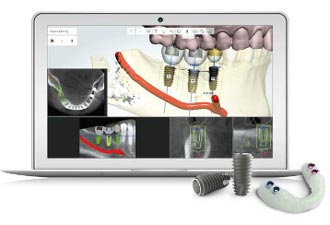 Are you currently unsatisfied with the appearance of your smile? Missing teeth can not only lower your self-esteem, but can also affect your oral health. As a family dental practice, we get a lot of questions from patients concerning the .
To see if digital implant surgery is right for you, we recommend reading our blog post down below and contacting a dentist knowledgeable in digital implant surgery.
What is a digital implant surgery?
Digital implant surgery (also called digital navigation implant surgery) uses a 3D computer simulation to check the bone condition and nerve position. With this information, a reputable cosmetic dentist will be able to plan a surgery with minimal incision. Since digital implant surgery focuses on making the smallest incision possible, there is significantly less pain compared to traditional implant surgery.
During the dental procedure, an exact guide is fitted over your teeth to ensure no damage is done to surrounding nerve or teeth. The guide also helps dentists make precise, yet small, incisions for dental implant placement.
What is the minimal incision surgery?
Minimum incision surgery is the idea that patients should only have to endure minimal incisions in order to decrease their pain, discomfort, and recovery time. For dental implants, this means making small enough incisions for the dental implants that you won't need sutures.
Minimal incision surgery is also great for significantly reducing the amount of bleeding and swelling after dental surgery. General incision surgery, on the other hand, requires the dentist cut the gum all the way to the bone to check the position of your nerves and inspect bone condition.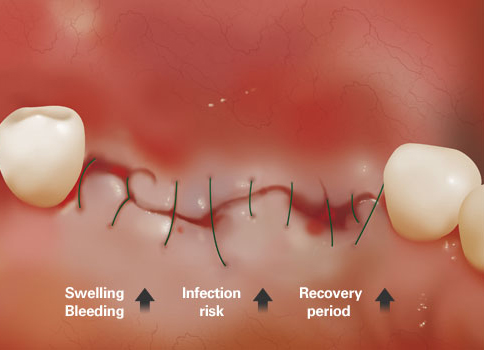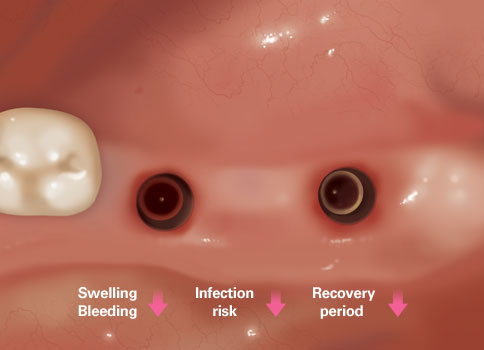 Is it less painful than other dental implant surgery?
With traditional
, the gum must be cut along the entire length of where the implants will be inserted. This is why many patients are now turning to . Digital implant surgery requires minimal incision because it uses 3D CT photos to check the bone condition and nerve position. Traditional dental implant surgery, on the other hand, requires making a large incision along your gums down to the bone.
The hole we make to fit in your dental implant is small enough to not need sutures. This not only decreases your recovery period, but also reduces risk of swelling, bleeding, and infection. Usually the entire digital implant surgery takes about 10 to 20 minutes per every 1 to 2 dental implants.
What is a dental implant?
A dental implant is an artificial tooth root (often made of titanium) designed to support future restorations, such as crowns. Patients may opt for a dental implant if they have lost one or more permanent adult teeth and would like to continue having a beautiful smile. Titanium dental implants can be successfully fused into bone, creating a solid foundation for your future dental restoration.
Dental implants should not be confused with crowns, which screw into the implants and mimic the look of natural teeth. The implant crown replicates the original tooth in shape, size, and strength so that you can feel confident with your new smile. Depending on your unique circumstances, an experienced dentist might recommend variations on the dental implant, such as the or . You won't be able to see the dental implant once the crown has been secured over top.
If you have any more questions regarding our dental implant services, please feel free to call our Grand Rapids family dental practice at (616) 288-6134. Dr. Yun is dedicated toward helping patients achieve their best smile through quality dental services.