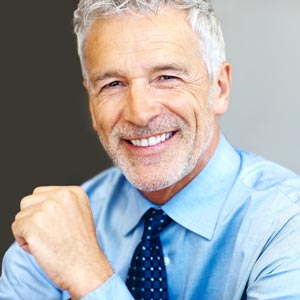 About
age 30 and older have periodontal (gum) disease. Are you one of them? We recommend scheduling an appointment with our office if you have sore, swollen, or bleeding gums. All of these could be . Also, how you treat this condition will depend on how far it has advanced.
Here's how to treat periodontal disease at home and in our dental office.
Stages of Periodontal Disease
Are your gums red, swollen, sore, or bleeding? If so, you'll want to schedule an appointment with our office as soon as possible. While gingivitis is reversible, you can't cure the later stages of periodontal disease. But you can mitigate the symptoms so you can achieve the best oral health possible.
There are three stages of gum disease: gingivitis,
, and advanced periodontitis.
Practice Good Oral Hygiene
Gingivitis (gum inflammation) is the first stage of periodontal disease. The good news is that you can reverse gingivitis by practicing good oral hygiene, such as brushing your teeth twice a day and flossing once a day. This will help remove plaque so your gums have a chance to recover.
You should also continue seeing Dr. Yun for routine teeth cleanings and oral examinations. While there's a lot you can do at home to protect your smile, only a dental professional will be able to remove plaque that's hardened into tartar. During your teeth cleaning visit, we use a dental tool called a scaler to gently scrape off plaque and tartar.
Learn More: 5 Ways You Can Prevent Gum Disease >>
Scaling and Root Planing
People with periodontitis tend to have deep gum pockets around their teeth. Over time, these pockets fill with plaque and contribute to receding gums. Fortunately, our dentist is able to do scaling and root planing to help reduce the harmful effects of periodontal disease.
Our dentist uses a special tool to remove plaque and tartar both above and below the gum line. Once the pocket is clean, our dentist will then smooth out your tooth roots so they can better reattach to gums. If you were recently diagnosed with periodontal disease, ask our dentist if can help.
Periodontal Surgery
One of the most common symptoms of periodontal disease is receding gums. If you have deep pockets around teeth, your dentist may recommend gum flap surgery. This procedure is also called .
During the procedure, we fold back the gum tissue to remove the bacteria, plaque, and tartar hiding underneath. Once the gum pocket is cleaned, we stitch the healthy tissue back in place so it fits snugly around your tooth. Gum flap surgery can help receding gums reattach to teeth.
Your dentist may recommend periodontal surgery if you have black triangles between teeth caused by receding gums. Periodontal surgery can also remove bacteria beneath the gum line so you can avoid loose or even missing teeth.
Request an Appointment with Dr. Yun
Dr. Suk Jun Yun wants to help you maintain a healthy smile for life! To request an appointment with our dentist in Grand Rapids, MI, contact the NorthPointe Family Dental & Implant Center at northpointefamilydental@gmail.com.
This blog post has been updated.