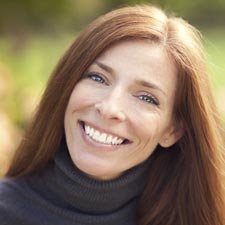 Wish you could show off a white smile? Ask our teeth whitening dentist if you're a candidate for GLO whitening. We can help you achieve the smile you've always wanted through professional teeth whitening right in our office.
Results in One Appointment
GLO stands for Guided Light Optics. This innovative technology uses heat and light to activate whitening gel. Since the mouthpiece is a closed system, oxygens aren't able to escape during GLO teeth whitening. This means that you'll be able to achieve a noticeably whiter smile in one appointment.
No Pain or Sensitivity
Do you have sensitive teeth? We believe that you shouldn't have to sacrifice comfort for a whiter smile. Unlike Zoom whitening, GLO teeth whitening doesn't have any "zingers." Most of our patients are able to whiten teeth by an average of 5 shades without pain or sensitivity. Our teeth whitening dentist can help you determine if GLO whitening is the right choice for your smile.
The gel we use during GLO whitening stays on teeth, which means you don't have to worry about irritating your gums. As long as you have healthy gum tissue, you needn't worry about "zingers." Unlike other products, GLO whitening gel doesn't contain alcohol or carbamide peroxide, which are known to cause dry mouth and tooth sensitivity.
Dr. Yun DDS and his team are dedicated to helping you achieve your best smile with GLO teeth whitening. To request an appointment with our Grand Rapids teeth whitening dentist, call NorthPointe Family Dental at (616) 288-6134.