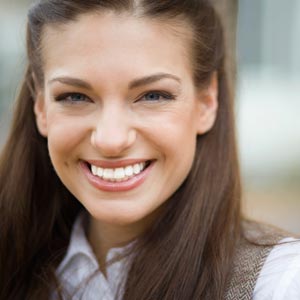 Almost all of our patients have had the unpleasant experience of having trays full of pink goop pressed against the roofs of their mouths for dental impressions. Thankfully, a lot has changed in dentistry to provide higher accuracy in , as well as improved patient comfort. Our family dentist uses a to map out your teeth so dental restorations can be made.
What Are Dental Impressions Used For?
Our dentist takes digital dental impressions to make dentures, crowns, bridges, veneers, and other restorations for your teeth. It is important that your new dental restoration look natural and fit perfectly over your tooth. By taking digital dental impressions, our dentist is able to capture a high level of detail to ensure your restoration does just that.
There's no gag reflex to worry about with digital dental impressions. Digital dental impressions take less time than conventional impressions so you don't have to spend as much time in the chair. The digital impressions also arrive at the lab faster because they're emailed (as opposed to going through snail mail). In this blog post, we will explain how different dental procedures use digital impressions. Patients benefit from dental technology that allows dentists to take accurate pictures of their teeth, gums, and jaws in less time.
Removable Partial Dentures or Complete Dentures
If you have several missing teeth, you may be a candidate for removable partial dentures or complete dentures. To make a set of dentures, our dentist will need to take impressions of the gums that will be supporting your dentures. help lab technicians make dentures that will fit comfortably and look natural.
Dental Crowns
Porcelain crowns are often a great procedure for patients with broken teeth, severe tooth decay, or even severe tooth discoloration. Our dentist will remove enough tooth enamel to make room for the crown. Dental impressions will then be taken and sent to the lab where technicians make your crown. Check out our other blog post to learn more about the dental crown procedure.
(also called tooth caps) are used to cover the entire visible portion of the tooth above the gum line.
Dental Bridges
Like the name suggests, dental bridges are used to bridge the gap in your smile caused by a missing tooth. A dental bridge is a false tooth secured in place by a dental crown on both sides. These dental crowns can cap natural teeth or implants. In order to make sure the bridge fits comfortably, our dentist will need to take digital impressions of your teeth for the lab. The dental lab technicians then use the digital dental impressions to make your custom-fit bridge.
Porcelain Veneers
Porcelain veneers are thin ceramic shells bonded to the front of your teeth. Veneers are a cosmetic dental procedure designed to cover tooth chips, cracks, discoloration, and more. During your first appointment, our cosmetic dentist will remove approximately 1/2 millimeter of enamel from the front of the receiving teeth so they won't look bulky with the new veneers. After enough enamel has been removed, our dentist will take to be sent to the lab where your porcelain veneers will be made. Check out our other blog post on what else you can expect from the veneers procedure.
Dr. Suk Jun Yun at NorthPointe Family Dental is dedicated to helping patients improve their oral health by using the latest digital dental impression technology. If you are interested in scheduling an appointment at our dental practice, give our Grand Rapids family dentist a call at (616) 288-6134.