Closed Until Further Notice Due To COVID-19.
Schedule Your Dental Appointment & Free Implant Consultation!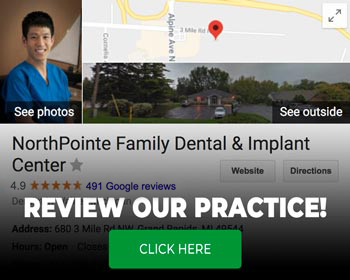 Absolutely recommend this dentist to everyone! I've been to several dentists over the years and I've never had such great treatment! Rachel R.
Had a lovely experience today at the dentist! Who can say that? They are respectful, thorough and quick. Also fit into my schedule by being open on saturdays. Sarah B.
Everything at Northpointe Dental is as promised on the website...or better! I am more than pleased with the friendliness, professionalism, and courtesy! Micaela M.
Hand down the absolute best dental care I have ever received. I would and have recommended Dr. Yun at NorthPointe Dental to all of my family and friends! Robyn O.
Great treatment all around, most high tech equipment and Dr. Yun is very gentle. And I love the entire staff! FREE exam and x-rays for first visit! Ricky B.
Dr. Yun and his staff are consistently kind, courteous and prompt in the services they provide. I highly recommend their services. Jaeyoung Y.
Incredibly helpful and professional. Was experiencing the worst pain I have ever felt and everyone there including the receptionist made everything accomodating and painless. Trenton T.
I hadn't been in for a cleaning in quite some time but the staff was really welcoming and made my experience excellent. My cleaning went super fast which made the experience that much better! Serena G.
Office staff and Doctor are friendly, have been very flexible with with my appointments, and offer leading edge dental service. Dr. Yun is very skilled doing implants. Kirt K.
love this office! Dr. Yun and the staff are very friendly and helpful. They are not pushy or assuming. Dr. Yun will tell you what the problem is and what needs to be done, but he doesn't pressure you into making a decision right away. Sue R.
Welcome to NorthPointe Family Dental
Where you're more than a patient ... you're family!
When it comes to patient care, our philosophy is very simple: Dr. Suk Jun Yun and our team treat each patient like family.
We do our best to provide the highest quality of dentistry because that's what we'd want for our own family.
Being your dentist is our privilege, not our right. If you are looking for a dental office that will treat you with the kindness, compassion, and the respect you deserve, you found it here at NorthPointe Family Dental!
We invite you to contact our Grand Rapids dental office to schedule a new-patient consultation, complete with free exam and X-rays. Your journey to a healthier, happier smile starts here! Learn more about our Grand Rapids dentist →
Why choose us to meet your dental care needs?