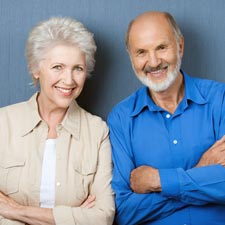 What are Dental Implants?
A dental implant is a prosthetic tooth root used to anchor a crown. The implant is typically made of titanium, which is compatible with jawbone tissue. A dental implant provides the stimulation your jawbone needs to stay healthy and avoid further deterioration. Our dental implant dentist will then place a crown on top to give you the appearance of a natural tooth.
Benefits of Implants
A dental implant looks and feels like a natural tooth so you can smile with confidence. We understand that it can be difficult trying to eat and talk with missing teeth, which is why we offer the dental implant procedure to our patients. Unlike dentures, dental implants are rooted in your jawbone so they won't slip.
Who is a Candidate?
Have you recently lost a tooth? To be a candidate for dental implant surgery, you need enough bone in your jaw to support an implant. The ideal candidate is a non-smoker with healthy gums. Keep in mind that just because you don't fit the image of the "perfect" candidate doesn't mean that our dental implant dentist can't help you. For example, many people are able to restore their smiles with mini dental implants, which don't require as much jawbone tissue as their full-sized counterparts.
Our Dental Implant Process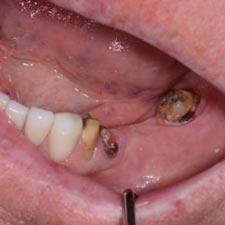 1.) Consultation with our Dental Implant Dentist
The first step of any smile makeover is to schedule a consultation with our dental implant dentist. Dr. Yun will take 3D Cone Beam to determine if you are a candidate for the tooth implant procedure.
Your journey will depend on the type of dental implants you choose. While the traditional dental implant process takes several months, mini implants take only one appointment to place.
---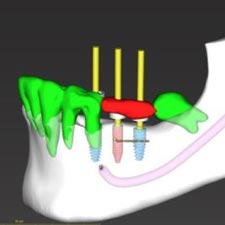 2.) Treatment Planning
Our dentist uses implant planning software like Trios and 3D Diagnostix to plan your surgery. He is able to take 3D images of your teeth, gums, and jaws so he can precisely plan where to place implants.
Whether you need a single tooth implant or multiple implants, you can count on our dentist to plan every step of your surgery.
---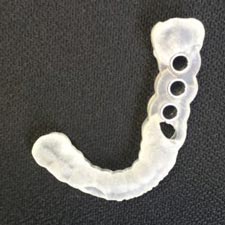 3.) Dental Implant Surgery
Unlike other dental implant dentists, Dr. Yun uses minimal incisions to decrease your recovery period and risk of infection. Instead of having to cut the gums down to the bone, he uses 3D scans to check nerve position and the condition of your jawbone.
A surgical guide will have also been created ahead of time so Dr. Yun can precisely place implants. The incisions will be small enough that you won't need sutures. A temporary crown will be placed over the implant to protect your mouth while it heals.
---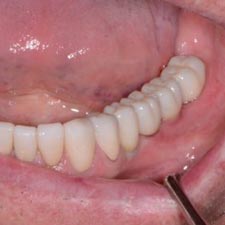 4.) Recovery
Once the surgery is complete, our dentist will review post-operative instructions and make sure you understand what you need to do while you recover.
Over the course of several months, your dental implants will fuse to your jawbone in a process called osseointegration. Once this happens, you'll be ready to come back to our office to have the permanent dental crown placed on top.
---
All-On-4 and All-On-6 Restorations
Did you know you don't need dental implants for every missing tooth in your smile? If you are missing all your teeth from your upper or lower arch, our dentist may recommend all on 4 dental implants. After evaluating your jawbone's condition, our dentist will determine the best places to insert dental implants.
These dental implants will later be used to support an entire arch of false teeth that look and feel natural. You may also choose all on 6 dental implants, which provides better strength and stability. Learn more about All-on-4 and All-on-6 dental implants →
Mini Dental Implants
If you're not a candidate for the traditional tooth implant process, you'll want to ask our dentist about mini dental implants. Mini dental implants replace teeth just like their full-sized counterparts while needing less time to place. Our dentist may also recommend mini implants if you don't want to wait months for tooth replacement. Unlike full-sized dental implants, mini implants can be placed in one visit to our dentist office.
During the procedure, our dentist inserts a titanium post with a ball on the end into your jawbone. The crown has a socket that fits over the ball so our dentist can snap the false tooth into place. Mini dental implants can also be used to anchor permanent dentures.
Implant Supported Dentures
Implant supported dentures are anchored by mini implants so they stay in place. One of the biggest complaints about dentures is that they slip when you're trying to eat or talk. Since mini implants are placed in the jaw and supported by bone, they'll help your dentures feel comfortable and look like natural teeth. Implant supported dentures stimulate jawbone tissue to prevent jawbone deterioration and even facial collapse.
Computer Guided Implant Surgery
Our dentist is able to plan your entire treatment after taking 3D scans of your teeth, gums, and jaws. We don't believe that there should be any surprises during dental implant surgery, which is why we make it our mission to know bone level, bone quantity, and soft tissue conditions. Our dentist also uses surgical guides and implant planning software via Trios and 3D Diagnostix so you receive the best dental care.
Clinical Cases